About
The MTC Engagement Experience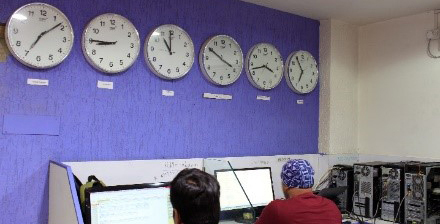 MTC is headquartered in Los Angeles, CA, USA with state-of-the-art development center (MTCD) in Hyderabad, India, adjacent to Microsoft India Development Center (MSID) and Sales and Services offices in Hampshire England, UK, Sydney NSW, AU, and Chicago IL, USA and gradually spreading across EU, Middle East and Asia. Today, 60% of MTC's services business is through Microsoft Partner resellers.
Perhaps the best statement of MTC's Dynamics 365 / CRM and integrated Portal development capability is the popular services industry state-of-the-art ERP called TotalServ Pro (TSP), which is also the backbone of MTC's highly transparent real-time client services operations. TSP is mobile compliant and can be accessed over a wide range of devices on popular mobile operating platforms.
TotalServ Pro delivers on MTC Philosophy and modern service procurement needs with total transparency, real time online self-service, and innovative ease at handling complex project Gantt, internal and external on-demand resource management, calendaring, scheduling, costing, tracking, posting, % complete, alerts to significant variance. In short, an operational system connecting your MTC projects and resources to your staff and clients in real-time on any device. MTC is your back office engineering team, around the clock.
How to get
started with MTC?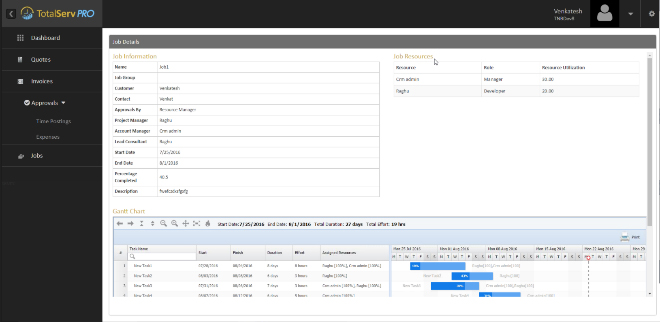 Initial Discussions:
The engagement process with MTC is simple, transparent and reliable. It usually starts with requirement gathering. Email to salesteam@mtccrm.com with your request. Try to be as detailed as possible and feel free to use cropped marked-up screenshots to help MTC in-take engineers to understand your exact requirements.
Upon receiving your request, an engineer and/or CRM business process specialist and a Project Manager will contact you at the earliest opportunity with related queries to solidify your initial requirement. MTC often provides examples, mock-ups, or may suggest a Proof-of-concept phase to communicate and assure the requirement.

Generating Quote, Order and Jobs:
Once a requirement is established and agreed too, MTC builds a TSP project Gantt for all Jobs and sends an emailed-link online proposal that provides complete details including pricing, terms, billing method, timelines, resources, and job tasks for real-time online self-help, interaction, and status tracking. The approved proposal then becomes the order whose associated job(s)/job tasks would be taken up by MTC team.
Payment:
MTC operates as a global Internet vendor requiring payment upon order before work starts. Payment online
automatically triggers the Job release from the proposal forecast. Online payment supports PayPal, and major Credit/Debit Cards. Proposals and Invoices provide wire transfer details.
Work Commencement:
MTC will work in its own engineering management, tracking, and storage environments on Microsoft technologies and tools or ones provided by the client as required.
In typical cases the client will need to provide access to a live Dynamics 365 / CRM work area for direct access by MTC engineers from either a development/test environment or the live environment. MTC will work with you in live web-meetings as and when needed to visualize, test, and train in the engagement work subject. Status, time post approval where applied, and all history is online in MTC's TotalServ Pro based portal.
Benefits Offered:
MTC is customer-friendly and transparent by design from its automation and globally available staff.
Absolute engineering leadership through experience on the Microsoft Dynamics 365 / CRM platform.
Consistent value-pricing by the hour, by a fixed task rate, or firm- bid project-pricing assurances up-front.
A true modern on-demand specialized engineering outsource for multiple managed resources.
Largest Dynamics 365 / CRM code library of relevant virtual object reusable IP for fast development.
Large Dedicated engineering resource pool of over 100 engineers per shift.
Operating around the clock operations 24/5 and backed by regional skilled representatives.
Ever enhancing 24/7 online self-service control over MTC's engagement and account management.
MTC's Implementation Methodology - Read more
MTC implements Dynamics CRM projects based on Microsoft Sure Step Methodology tailored as per the project needs. Review the different phases and their activities involved for ensuring qualitative output.
MTC's Change Management Procedure & Project Communication Flow - Read more
MTC follows a well-laid out Change Management Procedure to include/omit change requests made by customers. In doing so, it analyses the underlying risks and gauges the overall impact of such changes for ensuring high quality output.
Clients
Continue to Enjoy the MTC Experience...
MTC enjoys the benefit of very high repeat business levels from clients. Clients continue to enjoy MTC advantages as their closely-associated Dynamics 365 / CRM development arm. MTC takes client feedback with formalized and automatic surveys send by email and associated to specific engagements, tasks, and resources, however requests that customers provide feedback in any form, at any time to help MTC meet or exceed expectations.
Any service or service policy that's not listed here should be directly asked to MTC. Send your queries to salesteam@mtccrm.com for quick assistance.
MTC's
Services Offerings Include
This site for CRM services and Add-ons:
www.MTCCRM.com
MTC's Dynamics CRM community information resource and products portal:
www.DynamicsExchange.com
The services industry version of Dynamics CRM:
www.TotalServPro.com