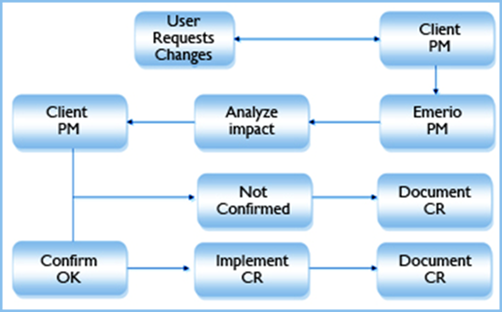 The Service requests (SR) are in the nature of application enhancements, changes to the source code, database, production jobs, reports, interface formats etc. The support team should be able to clearly differentiate between the support issue that should be resolved through the support process and the ones that would need SR process to be followed.
The development process should be followed for the SR execution as agreed with the customer. This may include any of the elements of the SDLC from requirements gathering and specifications to the user acceptance testing. The source code control, MTP (Move to Production) and handover to support processes should be clearly defined and followed.
Keynotes:
Definition of SR (Service Request) Enhancement to applications supported by client operations in the following area,
Changes to program source code
Changes to production jobs
Changes to production reports
Changes to Database schema
Implementation of new programs, interfaces, reports, processing logic and information.
Critical factors in this process:
Templates for SR and requirements gathering test plans and UAT signoff.
Estimation guidelines for the efforts and scheduling of the SRs.
Source code control guideline, tool and the definition and control of authority over source code.
Testing environment that contains the latest possible data from production.
MTP process and handover from development to support.